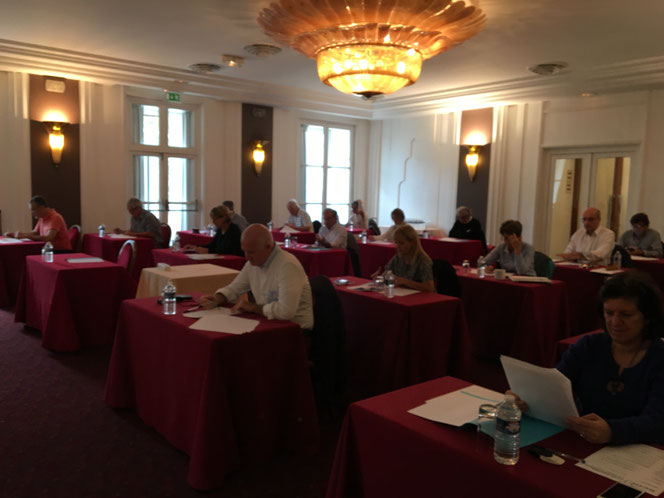 Une session de l'examen Proficiency (examen de compétence) se déroulera le 15 octobre 2016 à Neuilly.  Se présenter à cet examen est un honneur et une reconnaissance. Les candidats cette année sont parrainés (c'est la première et la dernière fois) Je vous parraine parce que travaillant ensemble depuis quelques années, je me porte garant et vous sais capables.  De surcroît, il me semble que vous remplissez les conditions ; voir « Prerequisite » dans le site de la Cranial Academy.
Une présentation « ostéopathique » d'un cas  que vous aurez préparé.      Un examen écrit.      Un examen oral.
Le Proficiency a ses  exigences ; voir  Prerequisite.
The Osteopathic Cranial Academy Proficiency Examination has been established to designate those  who demonstrate clinical skills in osteopathic diagnosis and treatment, utilizing the cranial concept.
Prerequisites
1. Successful Completion of two OCA-approved 40 Hour introductory courses in osteopathy in the cranial field (OCF).
2. A minimum of 100 hours of OCF-related Category 1-A AOA Continuing Medical Education credits must be completed. These CME credits must be obtained following graduation from residency (or equivalent), and may not include the first 40-hour Introductory Course.
3. Associate Membership or Regular Membership in The Osteopathic Cranial Academy. Avoir payé sa cotisation à l'OCA
4. Use of the method of William G. Sutherland, DO, in clinical practice.
5. Payment of the established application and examination fees. 
Protocol
A case presentation consisting of :
      1. A thorough history and physical examination
      2. Pertinent laboratory tests
      3. A thorough structural evaluation including cranial findings
      4. Initial assessment / interpretation of findings
      5. A medical, surgical and structural diagnoses.
      7. Discussion of course of treatment :
                   Subsequent evaluations and treatment with mention of   specific 
                  somatic dysfunctions with techniques utilized in treatment
8. Overview of case :
· Osteopathic reasoning and relationship of structural findings to overall diagnosis and management of the patient.
· Include appropriate applications of osteopathic principles to this patient (viscerosomatic…..
· Note atypical findings
9. Use of citations and bibliography format of JAOA Guidelines for References
10. Use of standard terminology
An examination consisting of a written, oral and practical sections.
The written examination will consist of questions on:
•  Basic anatomy
•  Physiology of the primary respiratory mechanism
•  Clinical applications of cranial osteopathy
Amitiés Pr M. Bensoussan MD,DO,FCA.  
Contactez moi pour info. bensoussanmau@gmail.com